Yes, we all love our animals. But perhaps some of these gadgets take it a little too far? I thought you guys might enjoy this type of post, so feel free to leave comments below saying which gadget YOU think is the weirdest, most useful, or down right useless!
For starters, how about a gold fish walker? Yup, that's right. A WALKER for your goldfish. Now tell me.... Would you take your fish on walks with you, or do you think it would be too much of a hassle? Perhaps it stresses the fishies out as well... Either way, one inventor has created this device so his fish can go on leisurely strolls with him!
Next, is the doggy hot tub. Now this is what you call spoiling and pampering at its finest. This is pretty self explanatory, but would you invest in one of these? I know I probably wouldn't; I'd like a hot tub myself, but that just is not in the cards! haha
How about a bird harness? Okay, so this can be pretty useful, if you choose to put your bird on one. However, I don't see a bird being very friendly with it. I would think they'd have a major issue with this one!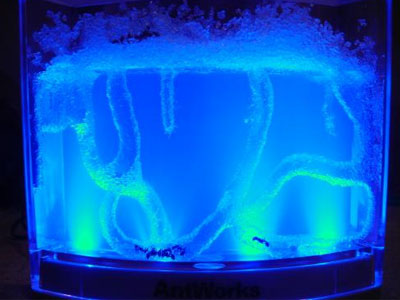 Glowing ant farms, this is a pretty cool concept. I've never actually had an ant farm, but Antworks has this pretty cool little ant farm. There's apparently several different types, so here's one of the many photos I found.
Birdhouses are an age old item for bird lovers, and now? They've only gotten better. How cool is it to have a bird house with a built in camera? Now you can anticipate the birth and raising of some cute baby birds. This might be a bit ridiculous to some, but it is definitely awesome for others!
So, you might get a giggle or two out of this, or you might just roll your eyes. How about a Poop Trapper? This contraption mounts to your dogs rearend. It then catches poo, so you don't have to clean up- you simply remove the bag. Personally? I think I'd rather use a pooper scooper rather than taking the bag straight from the source. But to each his own!
Okay, so this thing is called Petscell. Basically, it has a special number that you can use to call your pet, and have a conversation with him or her. It has GPS in case of a runaway or theft; so that's definitely useful. This could possibly be therapeutic for anxious dogs while his or her parents are away for holidays or vacations. It is a bit crazy to have a "cell phone" for your dog. But there are a bunch of other benefits to it, so it's not too bad of an idea.
What did you guys think???? Sure hope you enjoyed!
You can stay up to date with us here as we continue to fight with Facebook's attempt at bringing down communities:
http://mpmetmsignup.tk/
We admins do not have the money to pay Facebook to reach you guys- so we're doing this our own way! Thanks for supporting us; without you, this community would be nothing!!!